TacWare TW-950 Flashlight (900 Lumens)
The TW-950 flashlight provides the performance and style you need from your light.
---
Features:
900 Lumen Output from a CREE XM-L2 LED Emitter

High, Low, and Strobe Modes

Tactile Mode Selector Dial for 100% Predictable Function

One Inch (~1.18" Max) Diameter Hard Anodized Aluminum Body

Striking Bezel for Self-Defense

Scratch-Resistant Glass Lens

Removable Low-Ride Pocket Clip

Momentary or Click-On Operation

Three Interchangeable Tail Caps

INCLUDES 2x CR-123a Batteries

IPX4 Water Resistance
---
At first glance, this light may seem like most of the tactical and EDC flashlights you see on the market today but it has a couple very cool features that you set it apart from the crowd.
---
First, it has a mode-selector dial that allows you to know with 100% certainty that the light will be in high, low, or strobe when you pull it out of your pocket. Simply rotate the dial to your desired setting and it will activate in that mode every time you press or click the tail cap switch. No more pressing the switch multiple times to toggle through different modes.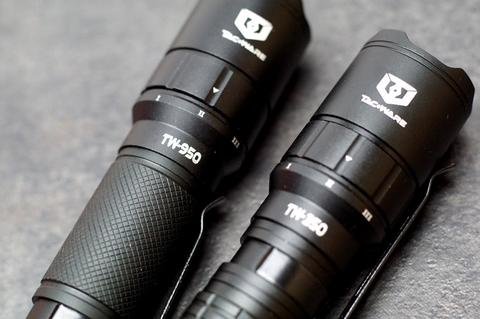 Next, it includes three different tail caps as part of an interchangeable system which you can use to tailor the function of the light to your specific needs.
It comes out of the box with the Utility cap installed (shown below).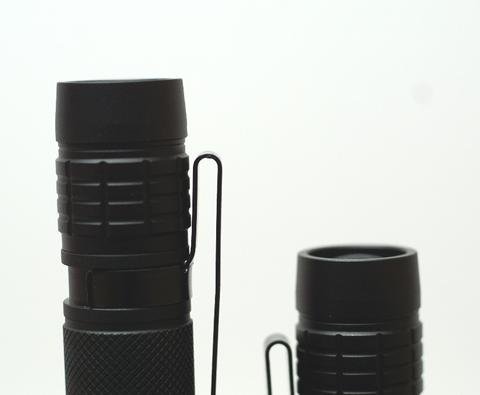 This cap is great for general purpose use. It will not only keep the light from accidentally being activated in your pocket but also allow the user to set the flashlight on end to point the light at the ceiling to provide flood type lighting in a dark room.
The Rifle cap (show below) exposes a bit more of the switch for optimum use on your defensive long gun.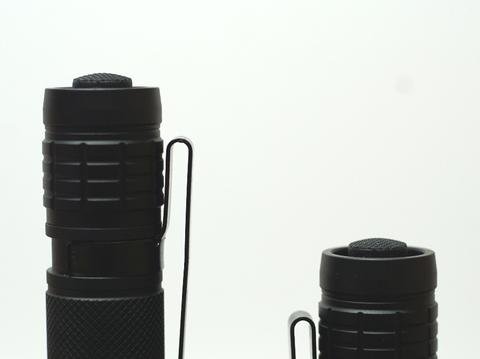 You'll have enough switch available to allow you to activate the light with ease when mounted on your weapon.
The TW-950 will fit virtually any weapon light mounting system that is made for 1.0" diameter lights.
The third, and final, cap is the Tactical tail cap.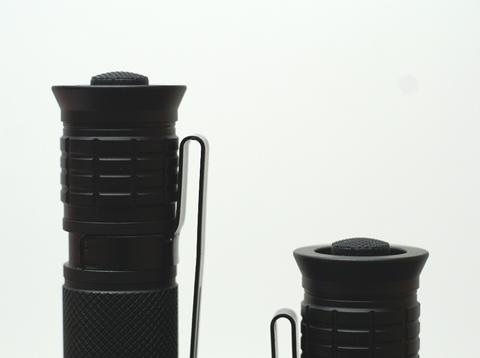 This cap exposes more of the switch and provides the user with a flared end to aid with grip. 
For users who prefer a hand-held light over a weapon-mounted light, this tail cap will allow you to keep control of your light while still allowing plenty of access to the tail cap switch.
---
This is a fantastic light that provides blinding illumination, high-quality construction, and a lot of features not found on other lights. It would make a great addition to your everyday carry, toolbox, vehicle kit, or anywhere you could use a solid flashlight.
---
Other Specifications:
Max Length: 5.375"
Max Diameter: 1.18"
Weight (with batteries): 4.8 oz
Reviews